Very easy to work with and accommodating. Everyone enjoyed the music! 5 stars
- Megan S, Clearwater Florida
People would stop in for a drink or a quick bite and end up staying the whole night whenever Geoff was playing.
- Deron Little, Owner, Season's Café
Geoff is the greatest singer ever!
- Mom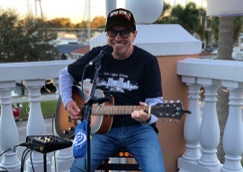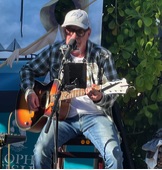 Music has always been part of my life, whether it was playing bass in a punk band opening for the Ramones, Go-Gos, Psychedelic Furs, and others, or playing dobro
and slide guitar for an alt-country band that released two critically-acclaimed albums.
And now I'm doing what I love best: solo gigs at beach bars playing a mix of songs everyone knows and loves.